Christmas time is here – ethical gifts.
Christmas time is approaching. For many, this time of the year rhymes with holidays, family, gifts, stress, travel, greeting, sharing, celebrating, shopping, snow and… magic! What was the meaning of Christmas, back when it started? Some will say: the birth of baby Jesus.  Others will talk about the winter solstice and the Pagan roots of this special day.
Where we stand
One thing is for sure in our contemporary capitalist societies: Christmas has become synonymous with commercial opportunities. AYAM Creation rarely participates in Christmas events, mostly for ethical reasons. Also because of seasonality. Our actions are guided by the ethical principles of SLOW FASHION and accountable and sustainable consumption. As well, we never emphasize BLACK FRIDAY events, that worldwide highly commercial day during which massive discounts are offered on tons of products in a variety of stores.
The roots of this celebration
Let's not forget that Christmas is also about spirit. This spirit that talks to us and awakens our desire to formulate and put into practice kind-hearted and good-willed intentions.The roots of this celebratory time are grounded in the energies of love. In the energy of sharing and giving, of being humble and hopeful, open and united.
How can we, as an eco-responsible, pro-awareness, ethical fashion brand, embody these roots as best we can? By GIVING, by giving to YOU! And by OFFERING those who love us and opportunity to SHARE the love and offer AYAM as a gift. Many of us love giving gifts as much as we love receiving them. This whether it is during the Christmas holidays or other occasions. Since it is so, why not make the choice to buy local products?  Some ethical, durable, wearable, fair and magnificent products as are all the AYAM Creation!
List of our gifts and special offers for Christmas 2016:
FREE SHIPPING – FROM DECEMBER 14TH TO DECEMBER 29TH
(from the Full Moon until the New Moon) – with any purchase of $160 MINIMUM before taxes!! We're not able to give you such an offer all the time. But we can give it to you for a limited time during these two highly-charged weeks!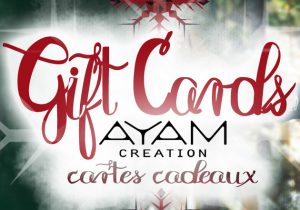 NEW!! GIFT CARDS NOW AVAILABLE!
Newly offered functionality on our web site, you can now offer AYAM as a gift! Since choosing clothing for another person is a complex task, yet you know that what we create will resonate with your loved ones, just go ahead and offer them a gift card, you choose the amount you give.
SURPRISE GIFTS!! All persons that buy one or more AYAM Creation items from here on and up until December 31st will receive a SURPRISE gift in their shipped package, gift ranging in size based on the purchase amount. Woohoo, this is exciting! Us humans really do love nice surprises!